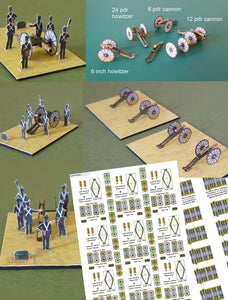 This set provides 10 mm scale 12 pdr and 6 pdr cannons and 6 inch and 24 pdr howitzers designed to be easy to assemble.  Only 7 parts and 7 folds are needed!
Based on the 28mm cannon and howitzers they are simple to build, look effective and are differentiated to make it easy to add a range of artillery types to your 10 mm Napoleonic French army.  There is a choice of wheel backgrounds too.
The guns are accompanied by a selection of line foot artillerymen and others can be taken from the NapFlat 28 mm pages and printed at 36%.
Once downloaded, the sheets can be printed as often as you like. You will need small sharp scissors, a craft knife, glue, appropriate paper and some stiff card for bases..
The images are laid out on A4 format with enough margin to print onto US Letter sized paper.