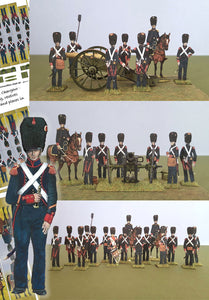 This set of 60 figures provides multiple examples of gunners for each of the eight positions servicing the guns. Additionally, there are mounted officers and a foot sergeant and drummer. These tall men served principally the heavier of the 12 & 6 pdr cannon and of the 6 inch & 24 pdr (5.5 inch) howitzers. The 3D and 2D artillery pieces are available separately.
Once downloaded, the sheets can be printed as often as you like. You will need small sharp scissors, a craft knife, glue, appropriate paper and some stiff card for bases, all as described in the Guidance for Assembling French Napoleonic Soldiers free PDF download.
The images are laid out on A4 format with enough margin to print onto US Letter sized paper.  You can, of course, print in any scale you choose.