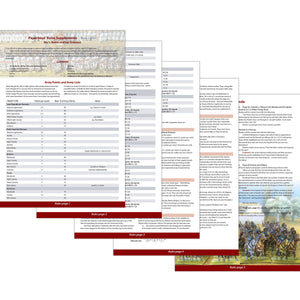 No.1: Rome and her Enemies
As the Paperboys widen their horizons into new periods and theatres of war Peter has asked me to come up with some suitable expansions and amendments to the wargames rules published in our original series of books.
This is the first of these Supplements and has been produced to coincide with the launch of the new PDF Paperboys. It offers new rules for the new armies, some amendments to the generic "Romans vs Ancient Britons" set published in the "Roman Invasion" book, together with an "Army Points and Army Lists" system for those wargamers who like that sort of thing…
Andy Callan's additional ancient rules to cover the new figures, including a points system and amendments to the original rules. You will need a copy of the rules in 'Roman Invasion' to play.