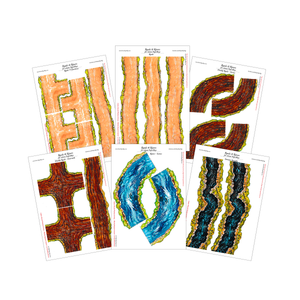 This modular bundle of roads, rivers and streams can be placed together in many ways. It comprises 16 sheets.

1 Straight road
2 Road V junction
3 Road T junction
4 Crossroads
5 Road bends
6 Muddy road bends
7 Muddy road straight
8 Muddy Road V junction
9 Muddy road T junction
10 Muddy crossroads
11 River straight
12 River bend
13 River ford
14 Stream straight
15 Stream bend
16 Stream ford

Once downloaded, the sheets can be printed as often as you like, which means you can build up large armies very cheaply. You will need scissors, a craft knife, glue, appropriate paper and some stiffer card for bases, all of which are described in the how-to section.

Note that this system is also made by Wofun, cad cut on thin and very flat plexiglass.