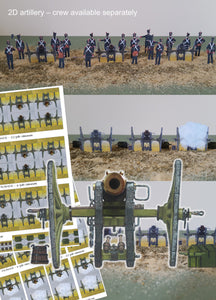 These sheets contain easy to produce 2D artillery pieces, namely 12 pdr cannons, 6 pdr cannons and howitzers together with ammunition chests and buckets.  They can be cut out in full detail or simplified by removing tool holders and chains etc.  They will need crewing with separate figures.
The front to back depth of these guns and crew bases can be as short as you wish to make them.
Once downloaded, the sheets can be printed as often as you like. You will need small sharp scissors, a craft knife, glue, appropriate paper and some stiff card for bases, all as described in the Guidance for Assembling French Napoleonic Soldiers free PDF download.
The images are laid out on A4 format with enough margin to print onto US Letter sized paper.  You can, of course, print in any scale you choose.