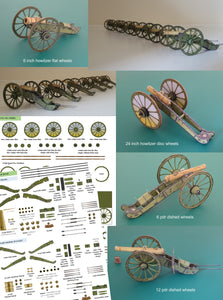 These cannons can be assembled in exactly the same simple way and with no more difficulty than Peter Dennis's original design to give distinctly different 12-pdr and 6-pdr cannons, and 6 inch and 24 pdr howitzers.  They can also be built with enhanced wheel types and additional optional parts to give an even more realistic look.  Full guidance for assembly is included.
Once downloaded, the sheets can be printed as often as you like. You will need small sharp scissors, a craft knife, glue, appropriate paper and some stiff card for bases, all as described in the Guidance for Assembling French Napoleonic Soldiers free PDF download.
The images are laid out on A4 format with enough margin to print onto US Letter sized paper.  You can, of course, print in any scale you choose.