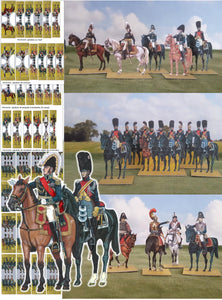 These four sheets provide two of individual commanding generals, generals of division, generals of brigade (maréchal de camp), generals of heavy and light cavalry. Two sheets give an escort of elite gendarmes in both bearskins and the helmets worn in 1815, on black and brown horses with officer and sergeant separate as well as in groups. These figures can be accompanied by the separate set of staff officers and aides de camp.

Once downloaded, the sheets can be printed as often as you like. You will need small sharp scissors, a craft knife, glue, appropriate paper and some stiff card for bases, all as described in the Guidance for Assembling French Napoleonic Soldiers free PDF download.

The figures are laid out on A4 format with enough margin to print onto US Letter sized paper. You can, of course, print the figures in any scale you choose.