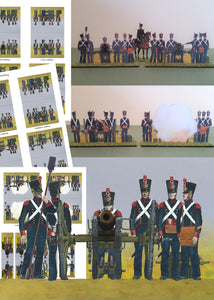 These sheets provide complete crews and artillery in one single piece for 6 pdr cannon and howitzers.  The crews are positioned for aiming, loading, pricking the cartridge, firing and fired.  In action a battery of guns rarely fired all at once.
This arrangement allows you to assemble fully crewed cannon very quickly.
Reduced to 36% they will work for 10 mm scale armies.
Once downloaded, the sheets can be printed as often as you like. You will need small sharp scissors, a craft knife, glue, appropriate paper and some stiff card for bases, all as described in the Guidance for Assembling French Napoleonic Soldiers free PDF download.
The images are laid out on A4 format with enough margin to print onto US Letter sized paper.  You can, of course, print in any scale you choose.