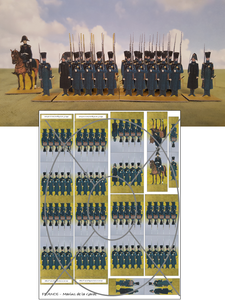 This sheet provides sailors, sergeants and foot and mounted officer. They can be assembled in stands of 15 figures in three ranks in a variety of ways depending upon the ratio of figures you choose to represent a company/battalion/regiment.

Once downloaded, the sheets can be printed as often as you like, which means you can build up large armies very cheaply. You will need small sharp scissors, a craft knife (No. 10A scalpel), glue (Pritt stick or UHU), appropriate paper and some stiffer card for bases, all of which are described in the Guidance for Assembling French Napoleonic Soldiers free PDF download.

The figures are laid out on A4 format with enough margin to print onto US Letter sized paper. (Good copy bureaus in the US will stock A4). You can, of course, print the figures in any smaller scale you choose with the guidance PDF showing the reduction percentage for popular scales, making them very flexible in this respect.

You will need to make a stiff card base for each stand according to the size of the groups you produce.