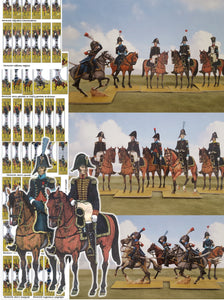 These four sheets provide adjudant commandants, officiers adjoint and aides de camp, both in decreed uniform and as attached from infantry officers and as distinguished for different ranks of the generals to whom they were attached. Additionally, there are topographical/geographical officers. The sheets also describe how many of these men were supposed to be attached to each rank of general.
Once downloaded, the sheets can be printed as often as you like. You will need small sharp scissors, a craft knife, glue, appropriate paper and some stiff card for bases, all as described in the Guidance for Assembling French Napoleonic Soldiers free PDF download.
The figures are laid out on A4 format with enough margin to print onto US Letter sized paper. You can, of course, print the figures in any scale you choose.