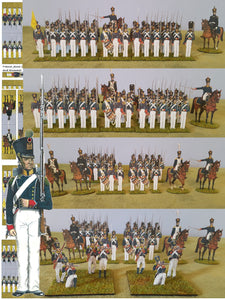 The voltigeurs of the young guard formed part of the corps of chasseurs. Whilst reasonably well equipped only half the 1st regiment were likely to have had sabre-briquets and only NCOs in the 3rd.  These seven principal sheets provide for those options and include mounted officers, NCOs, a fanion (possibly not present in 1815), voltigeurs, drummers, sapeurs and skirmishers
Once downloaded, the sheets can be printed as often as you like. You will need small sharp scissors, a craft knife, glue, appropriate paper and some stiff card for bases, all as described in the Guidance for Assembling French Napoleonic Soldiers free PDF download.
The images are laid out on A4 format with enough margin to print onto US Letter sized paper.  You can, of course, print in any scale you choose.