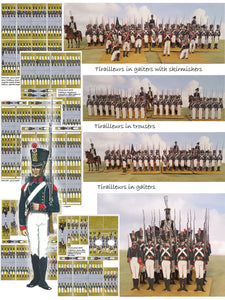 Tirailleurs were light infantry, trained to skirmish ahead of other troops. In 1815 the 1st regiment had 560 men in the 1st battalion and 549 in the 2nd and the 3rd regiment had 500 in the 1st battalion and 488 in the 2nd, each battalion comprising four companies. The equipment in 1815 varied across soldiers as only some had a sabre-briquet and its cross belt.  Two styles of cuffs are also reported. 

Six sheets provide figures to be assembled in stands of three ranks in a variety of ways, in either trousers or gaiters, to include sergeants, corporals, drummers, fanions and foot officers as desired.

Once downloaded, the sheets can be printed as often as you like. You will need small sharp scissors, a craft knife, glue, appropriate paper and some stiff card for bases, all as described in the Guidance for Assembling French Napoleonic Soldiers free PDF download.

The figures are laid out on A4 format with enough margin to print onto US Letter sized paper.  You can, of course, print the figures in any scale you choose.