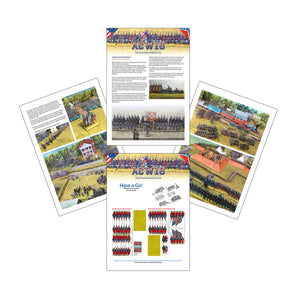 Right from the start, makers of Paperboys were reducing them to their favourite scale.
Those who haven't tried cutting out paper figures might think that the 28mm scale blokes are tiny enough already as a task for the old blunt snippers, but armed with the right tools and a little patience, to begin with, they are not difficult to make, and their 18mm cousins are little different.

If you're already a paper soldiering veteran you've probably already tried, so you know. If not, there's a try-out sample at the end of this piece. Have a go.
Bert de Groot has been reducing his figures for years and the photographs of his 64% figures, beautifully cut-out and glued straight onto the base caused me to think about how, if I was to make a smaller scale, I could present them in a way which would be flexible and help everyone to 'make like Bert'.

Mirko Bruner, one of the visitors to the Paperboys page on Facebook sent me a sheet of American Civil War mixed types reduced from the Helion book which showed just how economical these little fellows could be, and his offer to photoshop the sheets for me really sealed the deal.
We were on!

The 18mm ACW army list contains all the sheets you will need for both sides of the conflict. We have made them available to download as a complete bundle of 36 individual sheets.